We will only be making one design in a this class, however, you will receive 2 credits.

As this is a special event, we will be asking for help with the following:
Transportation for the professor from the airport to his hotel and the lesson location
Dinner arrangements the night before for about 10-12 people
Lunch for the professor and perhaps tea, water and snacks
A small gift for the professor
Please read this reminder on Workshop Etiquette
Below are some photos of Rikka Shimputai designs by Sensei Stephanie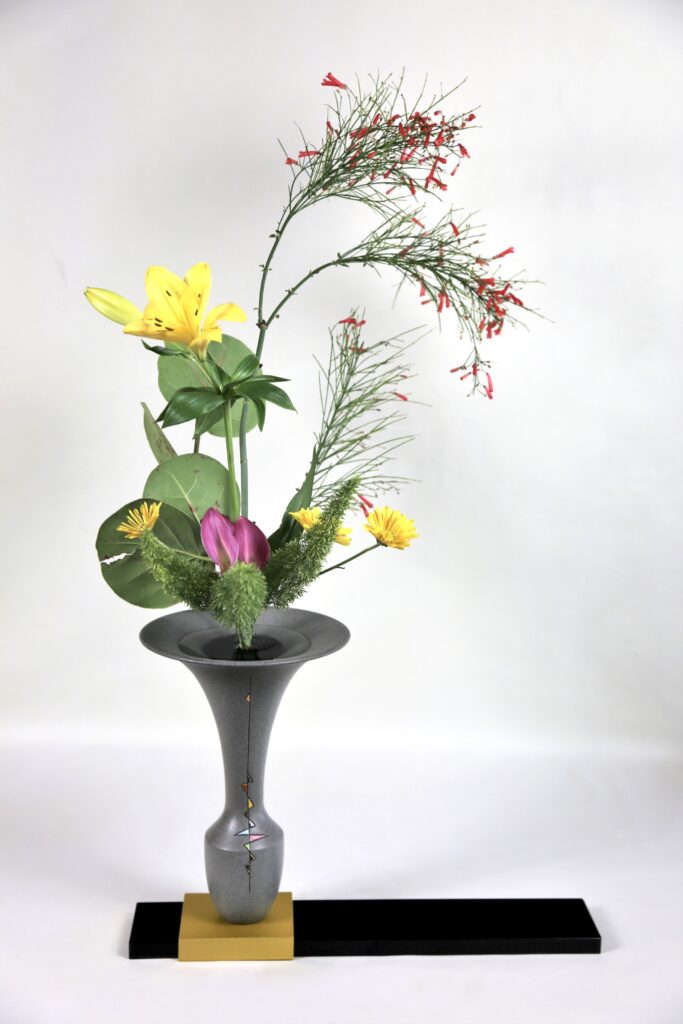 Please bring:
Type A, C, D, G or G container with opening large enough for a 3″ diameter kenzan or larger. Kenzan with an ashi (stem) is preferred. A more modern container is preferred for Rikka Shimputai designs.
Pebbles to raise your kenzan to within 1/2 inch of the top edge of your container. Pebbles must be no larger than your little finger nail.
Wire, tape, wire cutters, pliers, pinchers etc. are required equipment for this class. Wire and tape will not be available for sale at this lesson unless you have made prior arrangements with Daniela Klecan, our ginza chair.
Review the Lagniappe Videos on wiring.
All floral material will be provided.
We will be assigning everyone to bring a large quantity of one of the many types of line material we will need for this workshop from the list below
Check the Resources page of this website for a list of what to bring to class
Read previous class notes on Rikka Shimputai and review of the basic yakueda of Rikka Shofutai in any of your Rikka Shofutai textbooks.
Your lunch or a snack.
We will be assigning one of the materials listed below to each attendee to bring in a large quantity.
Bull Rush
Shell ginger leaves
Sea Grape
Areca Palm
Palmetto branches
Croton leaves
Magnolia leaves
Common Fern
Foxtail Fern
Check out the pictures of materials available in this area on this website.
We arrive at 11:15 AM, set up for class and make any necessary ginza purchases. The lesson begins at 11: 30 AM and you are generally on your way home by about 3PM. Bring a lunch or snack to enjoy.
There will be a definitive break between the 1st and 2nd arrangements at about 1PM to allow everyone the opportunity to watch the critiques of all the arrangements and everyone the chance to have a snack break.
Please do not take your arrangement apart until all arrangements have been critiqued. If you need to leave before all arrangements have been critiqued, you will not get credit for the lesson. Plan your time accordingly.