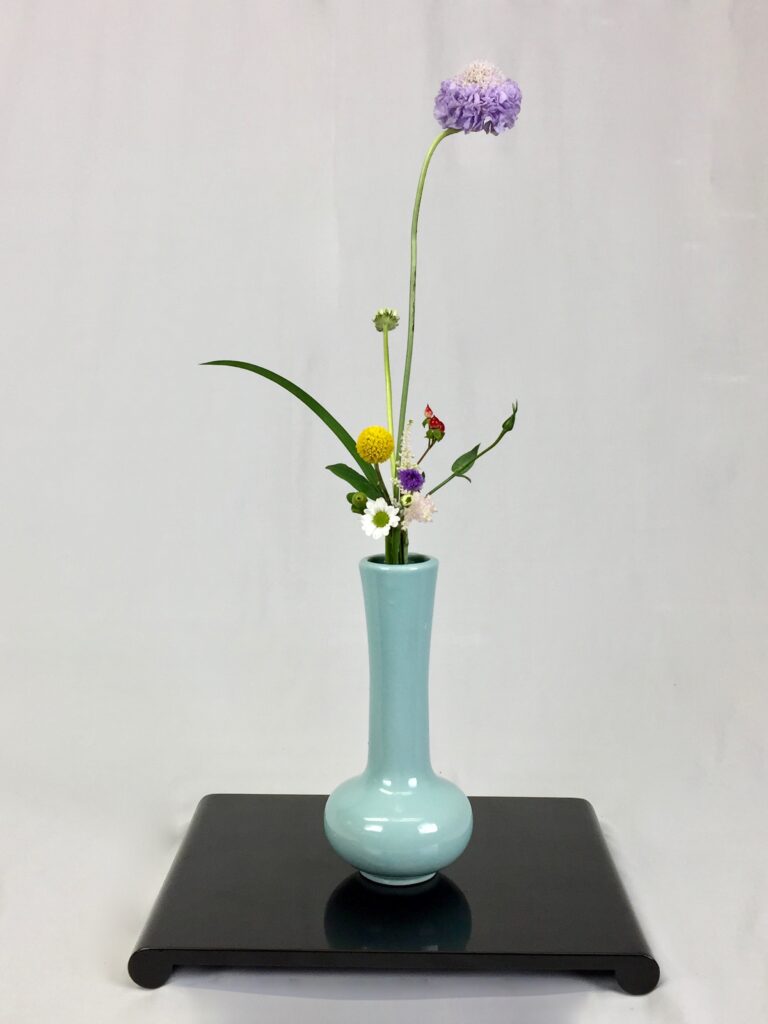 Please bring:
Type H or other small container about 8-9″ tall with an appropriate kenzan.  Kenzans for this arrangement are generally about 1.5-2″ in diameter. Given the delicate nature of these designs, larger containers are less suitable for these designs.  However, if that is all you have, bring it.
Pebbles to raise your kenzan to within 1/2 inch of the top edge of your container. Pebbles must be no larger than your little finger nail. If you have a tatehana style vase with a kenzan that fits squarely into the vase, it may not be necessary to raise your kenzan with pebbles.
Wire, tape, wire cutters, pliers, pinchers etc. are required equipment for this class.   Wire and tape will not be available for sale at the lesson unless you made previous arrangements with Daniela Klecan, our ginza chair.
All floral material will be provided but you must bring line material.
Please examine the picture above and bring your own line material.  Please note that the material is small and delicate in stature.
Check the Resources page of this website for a list of what to bring to class
This lesson style has become a staple in our lesson offerings.
Tatehana is an original style of Ikenobo for which little is known, but it is now coming back into popularity as an Ikenobo style. It is the personification of simplicity and peacefulness in an Ikenobo design. It also has very few rules!
We will create either a traditional or a more modern Tatehana, depending on the materials we are able to acquire. Traditional Tatehana designs require pine (usually straight young pine) which is not easy to acquire in southwest Florida. We often use podicarpus to simulate pine.
Our own sensei, Stephanie English, will be teaching this lesson based on her workshops with this style.
Please read:
Invitation to Ikenobo – Rikka I page 1-3
We arrive at 11:15 AM, set up for class and make any necessary ginza purchases. The lesson begins at 11: 30 AM and you are generally on your way home by about 3PM. Bring a lunch or snack to enjoy.
There will be a definitive break between the 1st and 2nd arrangements at about 1PM to allow everyone the opportunity to watch the critiques of all the arrangements and everyone the chance to have a snack break.
Please do not take your arrangement apart until all arrangements have been critiqued. If you need to leave before all arrangements have been critiqued, you will not get credit for the lesson. Plan your time accordingly.