Please consider joining our chapter.  We meet about twice a month for lessons and we also have two social events a year, a fall coffee and our annual certificate luncheon.  We are confident that you will enjoy taking lessons with us so much that you are welcome to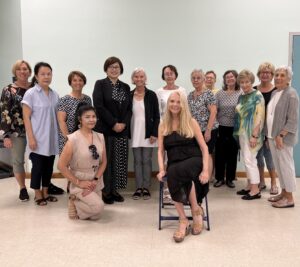 sign up for any of our classes before becoming a member of our chapter.  After your give us a try, we figure you are hooked and will want to join our chapter. You are also welcome to observe any one of our lessons for a $15 fee. Just contact us at [email protected]
Currently membership dues are $35 for a regular member, $105 for special members (Level #6 an above).   We will send you a notice in January and dues are payable by the end of January of every year.  It is possible that headquarters will raise the price of dues for 2024.  We add about about $5-$15 to the dues for chapter expenses.
Your membership entitles you to:
Contact our president, Stephanie English for how you can join.